Registering as a doctor in the UK is a bit complicated which encompasses a series of processes like getting registered, cracking relevant exams, applying for visa etc. Each process comes with its own difficulties. Don't worry! We are here to provide you with a step-by-step guide on how to get a doctor job in UK. By the end of this page, you will get each and every vital information that is required for a crystal-clear understanding.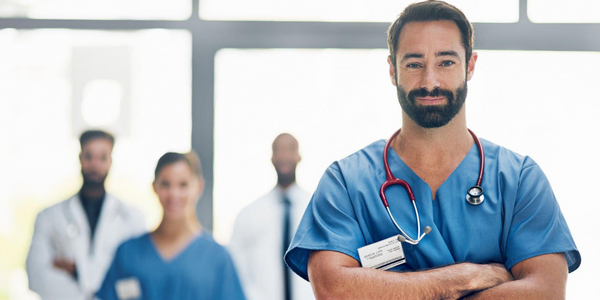 What are the steps to become a doctor in the UK?
First, let us understand in a nutshell what steps you need to follow to become a consultant/GP in the NHS UK.
1. Get into a medical school
There are two ways to get into a medical school in the UK as an undergraduate or as a graduate.
Undergraduate
Generally, for admission in UK medical schools, candidates will need a combination of GCSEs, AS levels and A levels. Different medical schools have their own admission criteria. However, whatever medical school you choose nearly all will have a written test and interview as a part of their entry requirements.

–
Graduate
If you already hold a bachelor of science degree then you can choose this path for your entry in the medical school of the UK. Through this route, you can fast track your medical degree by entering the programme directly into a later year of study.

–
2. Get awarded with your Medical degree
On the completion of the programme, you would be provided with a medical degree depending on the university programme. (Like, MB- Bachelor of Medicine or MBBS- Bachelor of Medicine, Bachelor of surgery).
3. Get your license
In order to practise in the UK, all doctors should register with GMC. There are different ways to apply for registration with a license to practice in the UK. It depends mainly on your nationality, qualification and experience (to be discussed in detail later).
4. Foundation Programme (FP)
The Foundation Programme lasts for two years. During this period, you spend a few months in different specialities. The foundation programme is the UK counterpart to Internship in most Asian countries.
5. Specialization
After the Foundation Programme trainee doctors can opt for either GP training, get trained in their preferred speciality or do locum jobs.
GP training
If you want to become a GP (General Practitioner) in the UK, you will need to undertake a minimum of 3 years of specialized training in a programme which is approved by GMC.
GP training:

If you want to become a GP (General Practitioner) in the UK, you will need to undertake a minimum of 3 years of specialized training in a programme which is approved by GMC.

Speciality training:

Speciality training can take anywhere up to 5-8 years depending on the speciality you choose. You can either go for a run-through or an uncoupled programme.
If you choose run-through you will be eligible for the entire duration of the programme by applying only once. In the case of the uncoupled programme, there would be 2-3 years of core training and then competitive entry into the higher speciality.
6. Continuous Professional Development (CPD)/ Revalidation/ Appraisal/ ARCP:
Along with your speciality training you will have to prove your fitness to practise on a regular biases by earning CPD/ points/ ARCPS each year and after becoming a consultant/ GP.
How long does it take to become a doctor in the UK?
Till now you may have got a fair idea of what will be the roadmap for becoming an established consultant/GP in the UK. But this is not as easy as it seems to be. Don't worry let's have a comprehensive look at each process in order to get an unclouded understanding.
How to register with GMC as a doctor?
In order to practice medicine in the UK, you need to hold registration with a license to practise. It accounts as a criminal offence in the UK for a doctor to give an impression of holding a registration or license when they actually don't.
Before we dig into this, please take into consideration that the process varies according to your nationality (as already mentioned above). Things will differ depending on whether you graduated in:
UK
EEA (European Economic Area)
Outside UK or EEA
Along with that, the outcome of the UK leaving the European Union may also soon bring changes in the process (in the examination part).
What happens at present?
At present, all UK graduates apply with their medical degrees and medical graduates that have been trained outside the UK will apply through:
PLAB/MLA route
Royal College Exams route/Medical Training Initiative MTI
Sponsorship route
Specialist registration route
What will happen after 2022?
There are going to be some changes in Assessments from 2022. The new assessment will be known as the Medical licensing assessment (MLA) which will be a common exam to assess all the doctors.
After MLA starts:
UK students will take MLA as part of their degree.
For medical graduates outside EEA, PLAB would be replaced by MLA.
Registration for medical graduates within the EEA will depend on the outcomes of the UK quitting EU.
For those who are applying through other routes (Royal college exams, Sponsorship, specialist registration) a decision still awaits. Let's discuss all the routes in detail.
1. PLAB/MLA
PLAB
PLAB stands for Professional Linguistic and Assessments Board. It is neither a degree nor a certification. It is actually a licensing exam to assess whether a doctor is eligible for GMC registration or not. PLAB exam helps the GMC to make sure that the doctors who practised abroad have the right knowledge and skills to practise in the UK.
There are two parts to PLAB. Part 1 is an MCQ exam. Part 2 is known as OSCE which is a practical objective structured clinical exam. PLAB exam ascertains your equal standing to a doctor who is currently in the second year of foundation programme training.
MLA
MLA will be a two-part assessment:
Applied knowledge test (AKA) which will be a computer-based test.
Clinical and professional skills assessment test (CPSA) which will be delivered at GMC's clinical Assessment centre.
The process of MLA for UK students and MLA for international medical graduates will differ. (Though GMC wishes to include students of EEA too, the law doesn't favour this at present.)
2. Royal College exams
MRCP/MRCS/MRCR etc.
Membership of the Royal Colleges of Physicians/Surgeons etc of the United Kingdom is postgraduate medical diploma in the UK. These exams are run by the individual medical royal colleges. If you wish to move forward in speciality training or secure a registrar job these exams would prove very useful. Also, all Royal college exams are recognised as acceptable postgraduate qualification by GMC and can be used instead of PLAB to register with GMC. [ To register you would need to complete all parts of the individual royal college exam except FRCA aesthetics Primary]
3. Sponsorship
Another route to get the registration with GMC is by applying through sponsors. Each sponsor has their own scheme which has been pre-approved by GMC. In this case, you will have to fulfil the requirements of the scheme and prove your sponsor that you possess the required skills, knowledge and experience to practice as a doctor in the UK, after which they will provide you with a certificate that will be required at the time of your application with GMC. This route is primarily useful for either the experienced international doctors who wish to have an experience in the UK healthcare system or for employers who want to employ highly experienced doctors for a very specific role. Here is the list of all the organisation/ universities/ hospital trusts that run this scheme. You can get further information by individually contacting the organisation of your choice.
4. Specialisation
According to the level of skills, experience and knowledge, a variety of overseas qualifications are recognised by GMC for registration with a licence to practice. If a doctor's postgraduate qualification is recognised by GMC they can apply to be on specialist register straight away without any further exams. This is the list of acceptable overseas postgraduate qualifications eligible for registration on the specialist register.
Details regarding the relevant exam for GMC registration
1. PLAB
Who has to take the PLAB exam?
Graduates of medical schools outside of the UK, EEA or Switzerland need to take the PLAB exam.
What is the objective of PLAB?
The Professional and Linguistics assessment board test helps the GMC to assure that the doctors who qualified abroad have the right skill set, experience and proficiency to practice medicine in the UK.
What exam do you need to take before PLAB?
Before taking the PLAB exam you need to clear IELTS/OET to get a threshold score to prove that you have the required English proficiency to practice medicine in the UK.
Important note about English language exams:
BRILLIANT NEWS:
Doctors, nurses, dentists and midwives applying for Tier 2 (General) visas no longer need to meet a separate English language requirement where they have already done so as part of registering with the relevant regulatory body. This means that these healthcare professionals will be exempt from the English language requirement for their visa application where they have used their successful OET results for registering with the relevant healthcare regulator. The test was recognised by the UK's Nursing and Midwifery Council and the General Medical Council almost two years ago.
This means a single OET pass result cab be used both for registration with NMC/GMC and for Tier 2 visa purpose.
The change will apply to all Tier 2 (General) visa applications submitted on or after 1 October 2019.
IELTS Academic for UKVI with a score of 7 in individual modules and over 7.5 can be used for both GMC registration and UK visa application.
So effectively to satisfy GMC/NMC registration and VISA requirements your options are:
Option 1: OET with a score of B in each module
Option 2: IELTS Academic for UKVI with a score of 7 in individual modules and and over all 7.5
Option 3: Structured English language reference SELR and IELTS UKVI with a score of 4.
Option 4: Recent pass in a language test administered by a medical authority like USMLE America or MBA Australia and IELTS UKVI with a score of 4.
What is PLAB 1 and PLAB 2?
PLAB 1
PLAB 1 is a written examination which can be given in a number of countries. You must create a GMC online account to check for the available locations and date. You can create an account after you have passed your IELTS/OET with the required score.
| | |
| --- | --- |
| No. of questions | 180 (MCQs) |
| No of choices | 5 |
| Time | 3 Hrs |
This comprehensive guide will answer all your questions regarding PLAB 1.
PLAB 2
PLAB 2 is an objective structured clinical exam. PLAB 2 is really a unique exam which tests your practical skills and presence of mind by putting forward eight scenarios each lasting for 8 minutes.
Unfortunately, this cannot be given from the comfort of your preferred location and you will have to travel to the UK for this exam which runs at their clinical assessment centre in Manchester only.
This guide will clear all your confusions regarding PLAB 2.
2. MLA
What is the objective of MLA?
There is much buzz about Medical Licensing Assessment which will soon be conducted from 2022 and beyond. The objective of GMC behind introducing MLA is to ensure that the doctors who wish to work in the UK can meet a particular threshold before the license is granted to them.
What are the parts of MLA exam?
There are two parts of the MLA exam.
Applied knowledge test (AKT)
Clinical and Professional skills assessment (CPSA)
AKT
AKT will be the same for the UK and international UK graduates. GMC is planning to have this exam 4 times a year. It will be a computer-based test for all candidates. For UK students, the sitting will be decided by the medical schools to whom GMC will provide the test papers.
CPSA
Both the UK students and international graduates will have to fulfil certain requirements as part of the CPSA on which GMC is currently working. For UK students if the medical school's clinical assessment centre meets those requirements, students can simultaneously pass the CPSA element of MLA. For international graduates, these assessments will be delivered at their clinical assessment centre.
You won't require any new learnings for MLA as the knowledge that you have gained in the course of earning your degree should be sufficient. MLA for UK students and MLA for international medical graduates will not differ much. It should be noted that things are still evolving and may become finer with
Types of registration
Whatever post or practice you are planning to undertake, you must hold the right registration forthe same. There are four main types of registration that allowdoctors to work in different posts.
1. Provisional registration
Purpose
To allow you to complete the UK approved F1 programme.
When to apply?
3 months before the date you wish to start your F1
Limitations
1. You are not allowed to take any kind of service post other than approved F1 programme.
2. Provisional registration can be held for max 3 yrs and 30 days.
Am I eligible for Provisional registration?
In case you are eligible for full registration, you won't be eligible for provisional registration. You can easily Check your eligibility for provisional registration.
2. Full registration
When is full registration required?
You need full registration with a license either to move to the second year of Foundation programme or to work in unsupervised medical practise in the NHS or UK Private practice.
Am I eligible for full registration?
You are eligible for full registration if you satisfy one of the below criteria:
You have completed the F1 in the UK.
You are an EC national who either has formal qualifications listed in the directive or have an acceptable primary medical qualification from outside the EEA along with evidence for an acceptable internship or clinical experience.
You are an international medical graduate who either has an acceptable primary medical qualification from outside of the UK or EEA along with evidence for an acceptable internship or clinical experience.
3. Specialist registration
When should you go for Specialist Registration?
If you want to work as a consultant in the UK health services and have a special medical qualification, training or experience then you should apply for Specialist registration.
There are different types of applications available for specialists. You can find out whether you are eligible for Specialist registration or not.
4. GP registration
If you have a specialist medical qualification in GP then you can apply to join the GP register with the help of multiple types of applications available for GP. You can find out whether or not you are eligible for GP registration.
Step-by-Step guide on how to register and prerequisites
You need to complete some steps in order to make sure that you can join the UK medical register. These are:
Check whether you are eligible and EPIC verification.
Complete GMC registration application
Pay the fees
Provide the evidence that is required by GMC
Complete the identity check
GMC has specific guidance on the kind of application you are eligible for and what are the requirements to fulfil for every type of registration. You can get a glimpse of the same by using registration application finder..
The Application process
Step 1:
Apply online
Step 2:
After your online application, you will receive an email from GMC that will ask you to provide relevant evidence. Scan all the required documents and send them as a single PDF within 28 days of receiving the mail.
Step 3:
After you have sent the documents, GMC will assess it within 5 days. If there are any pieces of evidence still required, you will again receive a mail from GMC. Email the scanned documents required within 14 days of receiving the mail.
Step 4:
After no more evidence is required, your application will be complete. Now you will be sent an invite for the ID check. You need to attend the ID check within 3 months of the email, failing to do so will cause your application will be closed. Fortunately, if all pieces of evidence are present at the ID check you will be granted your registration!
What evidence do you need to provide?
Depending on your nationality and circumstances there can be diverse pieces of evidence that GMC may ask you to provide.
All Applicants
Evidence that you are proficient in the English language
Evidence for fitness to practise which will include details of your postgraduate medical experience and non-medical experience since the time you graduated. This will also include a certificate of "GOOD STANDING" from each medical authority you have been registered with. It's a certificate which can be obtained by requesting your registration body in your country.
For European doctors or those with enforceable community rights
An acceptable primary medical qualification. In some cases, your primary medical qualification may also be needed to be verified before the registration with a license can be granted.
For international medical graduates
Applicants to the General Medical Council (GMC) of the United Kingdom for full or provisional registration will need to have their primary medical qualification independently verified by ECFMG before the GMC grants their registration. For further details about EPIC verification click here
Passing the PLAB exam or
Showing an acceptable postgraduate qualification
Gaining sponsorship from an approved sponsor
Apply for visa
Come to UK and start your job.
How are the interviews?
If all goes well, you will soon receive an email inviting you for an interview.
In some cases, you may also receive a call from the HR to tell you that you have been shortlisted. The phone call holds very less importance until you receive an official email. Unfortunately, you won't be able to change the dates and time of the interview[ In most cases] If you are facing any problems, please contact the specific person mentioned in the job advert/ HR.
It can either be a skype interview/video conferencing or a face to face interview. If you are in the UK, we suggest that you attend a face-to-face interview since it would better reflect your personality and skills. You can have a glance at some of the Frequently asked NHS interview questions with answers to prepare well for your interview.
Applying for VISA
The documents required to apply for the UK Visa for appearing in PLAB 2 will differ from person to person. But two major documents are a must and those are:
Your valid passport
Valid confirmation of PLAB2
Apart from this, you will require the following:
Cover letter
Bank statements for the last 3/6 months
Supporting letter from your financial guarantor
Solvency certificate/List of assets
Income/Salary certificate
Evidence of Home address
Evidence of family members in your home country (Passport copies or national ID copies)
An affidavit which affirms the declaration of financial scholarship
You can find the document checklist here.
After you have all the documents choose a date and time for an appointment at the visa application centre.
What is the average salary of a doctor in the UK?
The salaries vary according to the positions- training period, speciality doctors, consultants and GPs.
Doctors in training- Basic salary after Foundation Year 1 will be starting at £27,146. In Foundation year 2 the figure will increase to £31,422.
Speciality doctors- Working as a speciality doctor will help you to fetch a figure in the range of £39,060 to £72,840.
Consultants- Basic salary of a consultant from 1st October 2018 will be £77,913 to £105,042 per year(depending on the length of your service). You can also supplement this salary by working in private practice.
GPs- From 1st October 2018, the range of pay that a salaried GP will get will be £57,655 to £87,003.
There are ongoing negotiations to the new junior doctor's contract and the results of this would be out shortly.
How can Britasiadoctors help you?
"The process of getting a doctors job in the UK is a bit complicated and the very first step that you should take to ensure that the process is hassle-free is choosing a partner that can guide you through each step. The team of Britasiadoctors is beside you from the point you decide to work as a doctor in the UK till you achieve your dream. With our experience and prowess, we will make all the stages including the registration process, exam and interview preparation, visa application and your arrival in the country as easy and as best we can. Our robust support team will guide you through all the steps so that you can complete the process smoothly. Having gone through the process ourselves, we can give you personalised advice and ways to make life easy for you. Our major role will be to organise interviews, connect you with the right employer, help you through the visa process and anything we can do on your way to success. For more information, please visit our service section.
Thanks!
Download Sample Medical CV Format
Example medical CV sample Click here
Note: Doctors with below degrees can get GMC registration based on their postgraduate degrees recognised by GMC.
Country
Awarding Body
Qualification
Bangladesh
Bangladesh College of Physicians and Surgeons
Fellowship in Anaesthesia or Anaesthesiology awarded since July 1999
Europe
European Academy of Anaesthesiology or European Society of Anaesthesiology
European Diploma in Anaesthesiology and Intensive Care
European Society of Intensive Care Medicine (ESICM)
European Diploma of Intensive Care (EDIC) awarded since January 2015
Hong Kong
Hong Kong College of Physicians
Membership of the Hong Kong College of Physicians
College of Anaesthetists of Ireland
Fellowship of the Faculty or the College of Anaesthetists [of the Royal College of Surgeons in Ireland1]
Royal College of Physicians in Ireland
MRCP Medicine (Medicine of Childhood)
MRCS (collegiate examination)
MRSCI (intercollegiate examination)
Malaysia
Ministry of Health
Master of Medicine (MMED) Malaysia with MRCP (UK) awarded since 1 July 2010
This must include four years of clinical experience (required to complete MMED) plus two years of training
Pakistan
College of Physicians and Surgeons Pakistan
FCPS Paediatrics Pakistan
Fellowship in Anaesthesiology awarded since1998
Singapore
National University of Singapore
Master of Medicine (Paediatrics)
Master of Medicine (Internal Medicine) including MRCP (UK)
Joint Committee on Specialist Training Singapore
Master of Medicine (MMED) Singapore, plus MRCP (UK) awarded since 1 July 2010
College of Anaesthetists of South Africa
Fellowship of the College of Anaesthetists of South Africa FCA (SA)
South Africa
Colleges of Medicine of South Africa
Fellowship of the College of Radiologists of SA FC Rad Diag (SA) - Diag Rad awarded after 1 October 2013
College of Family Physicians of South Africa
Fellowship of the College of Family Physicians of South Africa (FCFP(SA)) awarded since 1 January 2009
Sri Lanka
University of Colombo, Sri Lanka
Doctor of Medicine or MD (Anaesthesiology)
Doctor of Medicine or MD, (Obstetrics and Gynaecology)
Doctor of Medicine or MD, (Paediatrics)
Doctor of Medicine or MD (medicine) awarded after January 2017
Doctor of Medicine or MD (surgery) awarded after July 2017
West Africa
West African College of Physicians
Fellowship of the West African College of Physicians (Paediatrics)
West Indies
University of the West Indies
Doctor of Medicine (Anaesthesia) awarded since September 2003
(Course title has since changed to Doctor of Medicine (Anaesthesia and Intensive care)